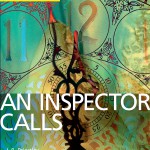 For our series on An Inspector Calls, as a part of our York Notes Weekly, we have the pleasure of featuring an exclusive commentary on the characters in the play from the perspective of Michael Nelson, co-founder of the J. B Priestley Society in Bradford.
The Inspector
Although seemingly real enough and knowledgeable about the girl's death, the Inspector takes on a symbolic, and possibly mystical, relevance.  Does he perhaps represent what might be called The Universal Conscience, or is he a member of some sort of Celestial Watch Committee? Could he even be God himself – sitting in on the Day of Judgement?
Since Priestley was not a conventionally religious man that notion can, perhaps, be discounted.  Yet the Inspector provides a strong moral and judgemental dimension to the play.
Arthur Birling
Arthur Birling, the father, a somewhat portentous, hard-headed factory owner, is predictably more concerned with profit than raising the wages of his workers.  It was due to Eva Smith's role as one of the ringleaders in a strike over pay that he had her dismissed. Hopeful of a knighthood and desperate to preserve his aura of bourgeois respectability, Arthur Birling is horrified at the thought of being involved in a scandal.
Sybil Birling
Mrs Birling, the wife, is Arthur's female counterpart. A rather cold woman (and her husband's social superior) who, when the pregnant Eva Smith appeals to her charity organisation for help, uses her influence to have the appeal rejected.  She takes the view that it is the man responsible for Eva's condition who should make reparation.
Sheila Birling
Shelia, the daughter, was instrumental in having Eva dismissed from her job as a shop assistant.  She acted out of pique and jealousy and now sincerely regrets it.
It is arguable that she is the pivotal character in the play: she displays an instinct and an intuition that the others lack.  She quite quickly latches onto the fact that the Inspector seems to know more than he initially reveals.
Her contrition does her credit and, spoilt and privileged though she may be, the fact that she is of the younger generation and unlike her parents in her outlook, suggests the sort of person who might accept, and indeed assist in, the establishment of Priestley's vision of a more caring society.
Eric Birling
While a similar age to Sheila, Eric is immature, and indeed weak, with a drinking habit. One evening he took advantage of Eva's good nature when he was in a drunken state, and subsequently became her lover and made her pregnant. He compounded his action by stealing money from his father's firm to give to Eva.
But Eric is not a lost cause: he, like, Sheila, is contrite and capable of grasping the concept of collective responsibility.
Gerald Croft
Gerald is older than Sheila and Eric, is self-possessed, and very much the easy well-bred man-about-town. While not despicable, Gerald is instinctively more inclined towards the parents' outlook than to the children's.
He met Eva, then calling herself Daisy Renton, when she was down and out, and set her up as his mistress, concealing this adroitly from Sheila.  Although showing the girl some affection, he broke off the relationship when it became convenient for him to do so.
In the final analysis Gerald is regretful, but not quite the convert, to the 'collective responsibility' that Sheila and, perhaps to a lesser extent, Eric, feel. Gerald is important to the crucial denouement of the play for it is he who quite cleverly unmasks Inspector Goole as a fake.
*************************************************************************************************************************************************************************
Looking for more like this? Check out our handy quiz to test your An Inspector Calls knowledge
For more on An Inspector Calls stop by our York Notes page for our print and digital bundles and guides
*************************************************************************************************************************************************************************
About the author
Whilst Michael Nelson's fascination with the life and works of Priestley date from his adolescence, in 1997 he founded the J. B. Priestley Society with Priestley's son Tom Priestley. Having served the society in a number of capacities, Michael is currently the society's Information Officer. He has written a number of guides on J. B. Priestly, including One Man In His Time (on Priestley's plays), and These Stumbling Chronicles (on the novels). Michael has also devised two theatrical presentations entitled Time and the Family and The Uneasy Peace; both of which have received public performances.
About the J. B. Priestley Society
The J. B. Priestley Society celebrates all things Priestley. Based in Bradford, Priestley's home city, its membership includes enthusiasts from around the world as well as in Britain.  If you'd like to find out more you can visit their society website: http://www.jbpriestleysociety.com